These are my favorites. Not necessary the bestselling games, or the most popular or exclusive or whatever. Just things I've donwloaded over the years that I truly enjoy. As far as lists goes, it's a pretty short one. I've only included 3 match-3 games, since I find that the rest of them are just copies of the best anyway. There are also more object hunting games, but I haven't included the ones that don't really count – like Hide and Secret – because they really SUCK.
Object Hunting or I-Spy type games
Mystery Case Files: Huntsville, and Mystery Case Files: Prime Suspects
Quirky storyline and characters, well hiddened objects, good minigames. The MCF games have set a new standard (and a new trend) for object hunting games. Of course, the idea is not at all original – who hasn't played with such games in books or read I-Spy? The new thing here is bringing the genre to adults and bumping up the difficulty so that people of all ages can enjoy it. Together.
Mystery Case Files: Ravenhurst
The next installment of the game returns with contraptions reminiscent of those in adventure games. Very enjoyable, very spooky.
Dream Day Wedding, Hidden Expedition: Titanic
These not-quite-MCF games provide the same object hunting gameplay. They're both very enjoyable and replayable. Dream Day Wedding, in particular, does something different – it gives you one stage at the end of each chapter that uses the same stage that you've done, but placing objects in different places. The memory game in it was pretty dull, though.
Magic Academy
A hide the objects game that I enjoy, although it doesn't have much replayability. See my detailed review.
Travelogue 360 Paris
When they say 360, they meant it. An object hunting game that bumps up the challenge by letting you rotate the camera and putting the objects ANYWHERE in your sphere of view. The mingames were rather dull – too easy jigsaw puzzles and some "luggage packing." But the core game is worth it. I use this to teach my son the names of objects, but he's probably too young. 🙂
Match-3's
The Da Vinci Code
Every once in a while, a great match-3 comes along that just blows the genre out of the water. This game took away the walls (rather, it expanded them) and gave the gamer a sense of adventure only previously impossible in this genre. Matching three things somehow became secondary to getting away from Silas. See my detailed review.
Big Kahuna Reef and Big Kahuna Reef 2: Chain Reaction
Before BKR came along, everyone copied Bejewelled. Now that BKR has been around for a while, everyone copies Big Kahuna Reef. It has set standards for the match-3 genre that everyone tries to match. Chain Reaction gives you that instant gratification oh so necessary in match-3's, and took it to the next level by setting up stages that gives you JUST that – chain reactions.
Egg VS. Chicken
It's the one match-3 game where the match-3 aspect is so well integrated that you don't even notice that at its core, this is essentially what you're doing – matching 3 eggs or more. This is one case where a game turns the genre on its head, yet still stay in it. Somewhat. It's thoroughly enjoyable and challenging.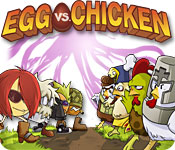 Action and Arcade Games
A lot of games fall into this category. Needless to say, I'm only including things that I've played and find enjoyable – it's surprising the amount of crap that gets released and even get on the "popular" list. I'll forego detailed explanations – maybe I'll drop in a review for most of these some other time when there aren't new good games out.
Spawns of Diner Dash and Cake Mania
It's Clicktastic!
I believe it was Insaniquarium that started it all, but there is now a whole genre of games where the objective is just clicking. A whole lot of clicking. And yes, it's still fun for some reason.